Thursday, November 9th we'll continue the discussion on civil rights in 2017 with representatives from the Department of Homeland Security and the Department of Justice.
"Civil Rights in 2017: A Discussion with Federal Civil Rights Officials" has been canceled and will be postponed until further notice. We're sorry for any inconvenience this may have caused and we will let you know when a date has been set with our speakers to reschedule.
On November 9th, we'll continue the discussion about civil rights in 2017 as we sit down with civil rights representatives from the Department of Homeland Security and the Department of Justice. We'll explore the type of work that they're engaged in within their respective agencies, what challenges they face in defending civil rights and if there has been a change brought by the new administration in the way that they conduct their work. Racism has hardly been erased in our society and government programs that have tried to mend the problem have not always succeeded, therefore we'll be exploring with our speakers how to move forward and what they see occurring in the nearby future.
"The project of civil rights has always demanded creativity. It requires being bold…"–Vanita Gupta, Assistant Attorney General and acting head of the Civil Rights Division at the U.S. Department of Justice (October 2014 – January 20, 2017)
Speakers:
Eric W. Treene, Special Counsel for Religious Discrimination, U.S. Department of Justice. Mr. Treene oversees the Department of Justice's religious discrimination and religious liberty efforts, including
combatting religious discrimination in employment, construction of places of worship, education; prosecution of religious hate crimes and attacks on places of worship, and ensuring that the Department's policies protect religious freedom. Before joining the Department of Justice in 2002, he was Director of Litigation at the Becket Fund for Religious Liberty, where he represented Christians, Muslims, Jews, Sikhs, Buddhists, and Native Americans in a wide range of religious freedom cases. He is a graduate of Amherst College and Harvard Law School and is the author of a number of articles and a contributor to two books on constitutional law and civil rights.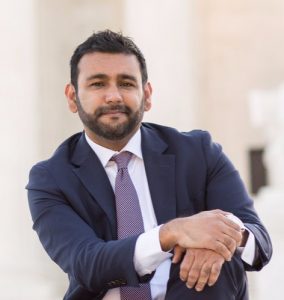 Ehsan Zafer, is an educator, advocate and public servant who helps build resilient communities by increasing trust and transparency in government, non-profits, and private enterprise. He serves as a Senior Advisor at the Department of Homeland Security where he advises the Office of the Secretary on civil rights and civil liberties issues. He teaches courses at the intersection of national security, homeland security, and civil rights/civil liberties at George Mason University. His book, Understanding Homeland Security: Foundations of Security Policy will be available in fall 2017, by Routledge Press. http://www.ehsan.com/
Viewed 496