On December 9, 2021, participants joined this in-person book talk for a considered study of Muslim–Christian coexistence and dialogue in the time of Prophet Muhammad.
The Christians that lived around the Arabian Peninsula during Muhammad's lifetime are shrouded in mystery. Some of the stories of the Prophet's interactions with them are based on legends and myths, while others are more authentic and plausible. But who exactly were these Christians? Why did Muhammad interact with them as he reportedly did? And what lessons can today's Christians and Muslims learn from these encounters?
Scholar Craig Considine, one of the most powerful global voices speaking in admiration of the prophet of Islam, provides answers to these questions. Through a careful study of works by historians and theologians, he highlights an idea central to Muhammad's vision: an inclusive Ummah, or Muslim nation, rooted in citizenship rights, interfaith dialogue, and freedom of conscience, religion, and speech. In this unprecedented sociological analysis of one of history's most influential human beings, Considine offers groundbreaking insight that could redefine Christian and Muslim relations.
You can find more information about the book here.
About the author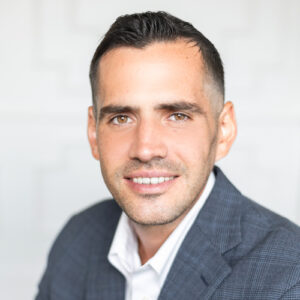 Dr. Craig Considine is an award-winning professor and the best–selling author of The Humanity of Muhammad–A Christian View (2020). He is recognized as an authority in interfaith dialogue, particularly Christian and Muslim relations. Dr. Considine has written seven books for the field of Islamic studies, including People of the Book–Prophet Muhammad's Encounter with Christians (2021), Muslims in America: Examining the Facts (2018), and Islam, Race, & Pluralism in the Pakistani Diaspora (2017).
Throughout the years, Dr. Considine's peer-reviewed articles have appeared in Sociology and Religions and his op-eds have been published in Newsweek and Foreign Policy. Dr. Considine's opinions appear regularly in the leading news and media outlets around the world. He also has experience in filmmaking, having directed the critically acclaimed documentary film Journey into America. Dr. Considine has spoken to audiences for Oxford University, the University of Edinburgh, Trinity College Dublin, the University of Dublin, and Hamad Bin Khalifa University (Doha). He is a practicing Roman Catholic with ancestral roots mainly in Sant'Elia Fiumerapido and Monacilioni, Italy and Lisdoonvarna, Ireland, but also England and Scotland. Craig is a native of Needham, Massachusetts. He holds a Ph.D. in sociology from Trinity College Dublin, the University of Dublin, an MSc Lond. in international relations from Royal Holloway, the University of London, and a BA in international relations from American University in Washington, DC.
Event Video