Fethullah Gulen is an Islamic scholar, preacher and social advocate, whose decades-long commitment to education, altruistic community service, and interfaith harmony has inspired millions in Turkey and around the world. Described as one of the world's most important Muslim figures, Gulen has reinterpreted aspects of Islamic tradition to meet the needs of contemporary Muslims. He has dedicated his life to interfaith and intercultural dialogue, community service and providing access to quality education. He was the first influential Muslim public figure to publicly condemn the 9/11 attacks and express sympathy for the American people.
Born into a humble family in Erzurum, Turkey in 1941, Gulen studied natural science, Eastern and Western philosophy, as well as Islamic tradition in his early years. He moved to Edirne in the late 1950s and to Izmir, Turkey's third largest province, in 1960s, where he started to crystallize his views. His activism and discourse attracted the attention of learned citizens, including the academic community and college students, as well as common people. From mosques to conference halls, Gulen discussed issues ranging from religion, peace, education and science, to the economy and other pressing social issues of the time, especially social justice.
In the following two decades, Gulen's efforts in mobilizing fellow citizens around the cause of providing access to quality education, which had long been available to the wealthier students from urban centers, made him one of the best-known and respected figures in Turkey. By inspiring the establishment of scholarships, free tutoring centers, college prep courses, schools and student hostels, Gulen gave disenfranchised rural students access to education, thereby helping transform the social landscape of Turkey.
In the last two decades, Hizmet participants have expanded education opportunities around the world — from Central Asia to South Africa, from Australia to the Balkans— building schools, dormitories and tutoring centers, teaching college preparatory courses, mentoring students, and providing financial aid to those in need.
The private, non-sectarian schools founded by Hizmet participants focus on science, math, literature and multicultural understanding, and many of their students have won major international math and science competitions. In conflict-ridden regions of the Philippines, Macedonia, Afghanistan, Iraq, and Bosnia, hundreds of Hizmet schools have become bastions of inter-religious and interethnic harmony.
Gulen has also advocated for the education of women and advocated for their empowerment, a progressive view that stands in contrast to the views of more literalist Islamic leaders.
Hospitals built by Hizmet's supporters have provided affordable access to quality health care while volunteer doctors brought free medical care to areas in desperate need. A major relief organization within the Hizmet initiative has mobilized thousands of volunteers and hundreds of millions of dollars in bringing aid to disaster victims in Southeast Asia, South America and Africa.
Gulen rejuvenated Islam`s tradition of interfaith dialogue and strongly advocates pro-democracy, equal opportunity, pro-science, non-violent stances. One of the core tenets of his teachings is the celebration of religious, cultural, social and political diversity. Gulen considers this diversity divine will; according to him, "you must have a seat for every person in your heart."
Gulen's lifelong work on interfaith cooperation has earned him recognition from Christian and Jewish leaders in his homeland Turkey and a personal audience with the late Pope John Paul II. He is also the recipient of New York-based East West Institute's 2011 peace award. His efforts have also been praised by other global leaders who recognize his vital role in fostering mutual understanding and peace as well as his leadership in humanitarian initiatives. In 2008, Gulen was ranked among top 100 in Foreign Policy and Prospect magazines' joint poll of the "Top 100 Public Intellectuals." In April 2015, he was awarded with 2015 Gandhi King Ikeda Peace Award by Martin Luther King Jr. International Chapel at Morehouse College in recognition of his life-long dedication to promoting peace and human rights.
Gulen currently lives in relative solitude at a retreat facility in Pennsylvania, where he dedicates his time to reading, writing and personal worship, and to promoting shared values, dialogue and peace.
For detailed information about Gulen's biography, please refer to his biographical album and his works.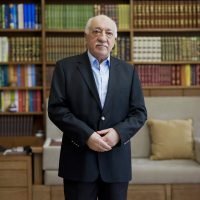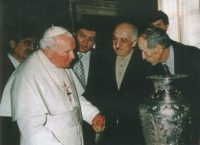 Mr. Gulen and Pope John Paul II
Mr. Gulen and Dharma Master Hsin Tao