Join the Rumi Forum and thousands of others for this years' Unity Walk! September 10th, 2017
May we see the day when war and bloodshed cease, when a great peace will embrace the whole world. When nation will not threaten nation, and humanity will not again know war. For all who live on earth shall realize we have not come into being to hate or to destroy. We have come into being to praise, to labor and to love.
-Rabbi Nathan Sternhartz of the Ukraine (1780-1845)
#knowyourneighbor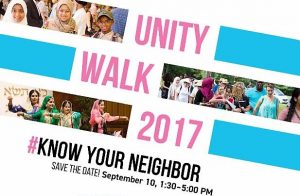 Sunday, Sept 10th 12:30-5 pm
Resource Fair 12:30-1:30 pm
Walk begins 1:30 pm
Opening Ceremony: 
Washington Hebrew Congregation
Closing Ceremony: 
Islamic Center of Washington
The Unity Walk is open and free to everyone. There is a suggested donation of $25 for adults and $10 for students, seniors, and those of limited income.
Service projects will include:
– Apple-bagging at Annunciation Roman Catholic Church
– Green service project at the Apostolic Nunciature to the United States
The Unity Walk cares about our planet!
Don't forget that bringing your own water bottle and utensils goes a long way in making our region friendly towards the environment.
Interfaith Picnic at the National Cathedral

Saturday, September 9th 5-8 pm
Washington National Cathedral
3101 Wisconsin Ave NW, Washington, DC 20016
Bring a meal to this interfaith, intergenerational picnic with music, art and activities on the Cathedral's west front. Get to know neighbors from the community and around the region as we share a meal and celebrate together.
Ending with Havdalah (the Jewish ritual that marks the end of Shabbat)
Volunteer Opportunities:
We are looking for volunteers to help at the Unity Walk and the Interfaith Picnic.
If you are interested or have any questions about volunteering for the Unity Walk, please contact us at unitywalk@ifcmw.org
If you're interested in volunteering for the picnic – find out more and sign up HERE
Resource Fair Opportunities:
Share what your organization does with others! Have a table at the Unity Walk resource fair from 12:30-1:30 pm at the Washington Hebrew Congregation.
The resource fair gives you an excellent opportunity to share information about your organization with walk participants.
A table is just $75, or can be included in the higher level donations (see below for more details).
More Pre-Walk Opportunities:
Houses of worship along Massachusetts Avenue invite members of the general public to attend services and learn more about different religious traditions the week of the Unity Walk.
Participating houses of worship include Washington Hebrew Congregation, St. Nicholas Orthodox Cathedral, Annunciation Catholic Church, and Sikh Gurdwara DC.
ATTENTION College Students!
American University invites YOU to a special Bagel Brunch on the AU campus on the morning of the walk, Sunday, September 10th.
Meet other local students committed to creating a campus community that promotes respect for all faiths and cultures. Enjoy great conversation, free food and exciting entertainment.
Support the Walk!
The Unity Walk is a signature IFC event. Your contribution will help sustain
the year-round work that fits with the goals and aspirations of the IFC.
Please consider donating at any of the following levels:
Suggested Donation: $25 for adults and $10 for students, seniors, and those of limited income.
IFC Neighbor: $50 and up. You will receive a Unity Walk Thank-You gift the day of the walk.
Resource Fair Participant: $75 for a table. This is a prime opportunity to share information about your organization with a diverse cross-section participants from throughout the greater DC area.
Other Sponsorship Opportunities:
IFC Partner: $100-$250.
IFC Sponsor: $250-$500
IFC Patron: $500-$1,000
These include a table at the resource fair and a Thank-You in our promotional materials.
Contribute online:
Sponsorship or Donation: Donation Box (Please select "Unity Walk" on the Donate drop-down menu).
Resource Fair: Donation Box (When signing up, please enter your organizational name at the first name prompt and "resource fair" at last name prompt.)
Contribute by check:
Mail your contribution to The Interfaith Conference of Metropolitan Washington 100 Allison St NW, Washington DC 20011
THANK YOU!