Freedom of religion or belief (FoRB) is the protection of the conscience and the free exercise of people's understanding of the ultimate truth. It is not only a fundamental right but also an individual, institutional, private and public right as well. As enshrined in the First Amendment, the Articles 18,19, and 20 of the Universal Declaration of Human Rights also protect the rights to freedom of religion or belief, freedom of opinion and expression, the right to peaceful assembly and association. However, not every region is always a stronghold of allowing people to live by their core values and beliefs. The rate of ill-treatment against religious institutions, people, objects, or events is increasing significantly.
On August 22, 2019, UN General Assembly recognized this by adopting a resolution declaring "International Day Commemorating the Victims of Acts of Violence Based on Religion or Belief".
Upholding these rights and responding to the alarming increase in persecutions of religious people and communities around the world, we believe within the scope of open, constructive, and respectful exchanges at various platforms across local, national, and international levels will be invaluable assets in confronting these ongoing acts of intolerance. To that end, Rumi Forum has invited distinguished speakers to address various dimensions of the topic.
On August 20th, our moderator Sabrina Dent and speakers Richard T. Foltin, Kirsten Lavery, and Rev. William H. Lamar IV, will share their insights on highlight mechanisms to prevent unfair treatments towards individuals, communities, and minorities.
Thursday, August 20, 2020

6:00 – 7:15 pm
ONLINE WEBINAR: Links will be provided as you register.
Moderator:
Sabrina Dent, Senior Faith Adviser, Americans United for Separation of Church and State
Sabrina is a life-long advocate for human rights and social justice. Throughout her career, she has worked with vulnerable populations including women and children impacted by domestic violence and abuse, youth with mental health and behavioral challenges, and racial and religious minorities. However, she developed a passion as a religious freedom advocate in 2015 when she became a Fellow with the Baptist Joint Committee for Religious Freedom. Before joining the AU team, Sabrina worked as director of recruitment and admissions at the Religious Freedom Center of the Freedom Forum. Prior to her time at the Religious Freedom Center, Sabrina served as program coordinator for the Doctor of Ministry Program at the Samuel DeWitt Proctor School of Theology at Virginia Union University (STVU). Sabrina is the past president of the Interfaith Community of Greater Richmond. Sabrina earned her master of divinity degree and doctor of ministry degree from STVU. She earned her bachelor's degree from Virginia Tech.
Speakers:
Richard T. Foltin, Fellow, Religious Freedom Center of the Freedom Forum
Richard T. Foltin is a fellow at the Religious Freedom Center of the Freedom Forum. He served in a number of positions at the American Jewish Committee, most recently as director of national and legislative affairs in the AJC's Office of Government and International Affairs in Washington, D.C., from 2009 to 2018. Prior to coming to AJC, he was an associate with the litigation department of Stroock & Stroock & Lavan, a New York law firm. Mr. Foltin serves on the governing council of the American Bar Association's Section of Civil Rights and Social Justice and as co-chair of the section's Religious Freedom Committee; he previously served as chair and co-chair of the section's First Amendment Rights Committee. Mr. Foltin is a member of the Committee on Religious Liberty, founded by the National Council of Churches and today convened by the Religious Freedom Center of the Freedom Forum. Mr. Foltin received his B.A. in Political Science from New York University and his J.D. from Harvard Law School. He is a member of the bars of New York State, Washington DC, and the U.S. Supreme Court.
Kirsten Lavery, Supervisory Policy Analyst, United States Commission on International Religious Freedom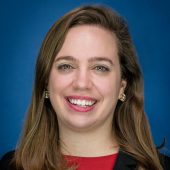 Kirsten Lavery is Supervisory Policy Analyst and Team Lead for International Law, Africa, and Latin America for the United States Commission on International Religious Freedom. Prior to joining USCIRF, Ms. Lavery worked at the Public International Law & Policy Group and provided legal and policy assistance to civil society representatives in conflict and post-conflict states. Her work focused on transitional justice and human rights documentation, as well as legal and policy reforms to advance human rights protections. Ms. Lavery has also worked on a range of international legal issues at the Special Tribunal for Lebanon, the UN Office of Legal Affairs, the UN Office of Human Resources Management, and the International Narcotics Control Board. Ms. Lavery previously practiced law in the New York office of Davis Polk & Wardwell LLP, where she focused on international criminal investigations. Through her pro bono practice and prior clinic work, she has experience representing clients in immigration proceedings, including in asylum cases based on religious persecution. She holds a B.A. in Government and Spanish from Franklin & Marshall College and a J.D. with a specialization in International & Comparative Law from Tulane University Law School.
Rev. William H. Lamar IV, Pastor, Metropolitan African Methodist Episcopal Church
The Rev. William H. Lamar IV is pastor of Metropolitan African Methodist Episcopal Church in Washington, D.C. He previously served Turner Memorial AME Church in Maryland and three churches in Florida: Monticello, Orlando and Jacksonville. He is a former managing director at Leadership Education at Duke Divinity. While he continues to advocate for his community of Washington, D.C., you can find Rev. Lamar fueling his faith by proudly supporting the Poor People's Campaign, the Washington Interfaith Network or every Sunday at pulpit of AME Church. Lamar is a graduate of Florida Agricultural and Mechanical University and Duke Divinity School. He is the co-host of "Can These Bones," the Faith & Leadership podcast.